This is what the critics said..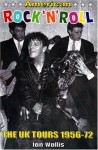 Vol 1 – The UK Tours 1956 – 1972
'An incredible book….. Meticulously detailed and inclusive'.   MOJO
'A book that does exactly what it says on the cover….. A fascinating study of an otherwise undocumented aspect of rock'n'roll history…..  Beyond doubt the definitive word on the subject'.   CLASSIC AMERICAN
'This is a book  that you'll be referring to over and over again'.   THE BEAT
'Such a neat idea, you wonder why no one thought of this before…. This is without doubt an indispensable book for anyone who was ever able to see any of the US legends on stage in the UK'.   TWANGSVILLE
'As a precious reminder of just how many American big beat stars have traversed the length and breadth of the British Isles to promote their music, this compendium of the rock'n'roll highway is an essential addition to any bookshelf'.   NOW DIG THIS
'A huge amount of effort has been expended on this book. If you ever saw any rock'n'roll personality or group on stage within the period stated, details will be here. Even if you didn't, the author brings the shows to life with his informative comments and background information. It is far more than a mere listing of  venues and artists. The book is well illustrated…… and the cover features a great shot of a sweaty Gene Vincent in a typical pose. I predict this book will be an indispensible work of reference  for rock'n'roll fans for years to come'.   TALES FROM THE WOODS
'A book about the tours of American rock'n'roll artists in England between 1956 and 1972? That didn't sound too exciting to me – until I picked it up that is. After that I couldn't put it down. A super reference work.'    ROCK'N'ROLL MUSIKMAGAZIN (translated from German )
"American Rock'n'roll – The UK Tours 1956 – 72′  is the work of a consummate fan and authority, and adds a vital missing link to the already vast archives of rock'n'roll literature.'   COUNTRY MUSIC PEOPLE
'This is a vital reference book for all researchers into live rock'n'roll and for those who saw them and would like to know where and when. One to add to your reference library'.   JUKE BLUES
'Here's a real goodie from Music Mentor Books…..Compiled and very well written by respected rock'n'roll journalist Ian Wallis, each tour is looked at in depth and it all makes for good reading. Not all the acts who toured may have been your fave rave of the time, but it is interesting to see who actually did come over.'   CRICKETS FILE
'This is my kind of book – made for nuts who love to read lists and study discographies…..It's just what the cover says, a pretty well complete listing of tour dates , with fascinating accompanying notes , of every US rock'n'roll artist to tour the UK between 1956 and 1972…….and if that does not sound engaging, just do what I did and go straight to a tour you remember seeing, and check out whether it's the way you remember it. Ian Wallis has it pretty well nailed down.. I enjoyed the book because of the memories it did bring back – good and bad – of the great artists we were able to see in the 50′s and 60′s……It's great to be able to look  these appearances up in the indices at the back of the book and then check the details.  There's an index for venues, summary of visits listed by artist,  an index of names, even an index of song and show titles. What a treat – I'm sick of books without a bloody index ! '   BLUES & RHYTHM
'A wonderful book…… stunning stories of the Buddy Holly and Jerry Lee Lewis visits'   FIRE-BALL MAIL
'I expected this to be reasonably interesting but basically a reference book rather than a good read. How wrong I was. For the first time in ages I read a book from cover to cover.'   PIPELINE
'A fascinating account. ….Reccomended '   BLUE SUEDE NEWS
'Congratulations to Ian for putting together and producing a very well researched book '   EDDIE COCHRAN CONNECTION
'The book might easily have been something of a trainspotter's guide to who sang what and where in the UK during the gold and silver eras of rock'n'roll. It's not. It's a well-written, completely absorbing journey behind the scenes of the ups and downs of pop music and its performers as they ride ever-changing trends. Some of those that started on the highest note of all eventually hit the basement and this study of live performances paints the clearest picture of their decline.
The detail is wonderful. Even events that didn't take place are illuminating. Tommy Sands backed out of his tour for fear of flying. Jerry Lee Lewis was hounded back home after three shows because he had scandalously just married his 13 year old cousin.. This densely populated book of chronological information and anecdotes is a compulsive page-turner'.   RECORD COLLECTOR
'We have never met, but your wonderful book,  'American Rock'n'Roll The UK Tours 1956 – 72′   unlocked the door to so many great memories'.   SHARON OSBOURNE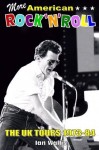 Vol 2 – The Tours 1973 – 1986
'Wallis's impressive chronology is chock-full of dates and precis of what went down in the mini US invasion. No name- or indeed  town- is too small, there's even an index of since-discovered dates to be added to the first volume. His dedication to the cause is unparalleled.'   RECORD COLLECTOR
'How many people know that the great Tony Williams, original lead with the Platters, played a bunch of dates here with his own line-up of the group in September/October 1974 ?   It's detail like this that makes this book so unique…. I only hope it's not another nine years before the next volume is published!'.   NOW DIG THIS
'This isn't a book to read from cover to cover but a great one to dip into as the mood takes you. The first thing I did was to search for the gigs I'd seen and relive some great memories…. Ian pulls no punches when needs be, and reports Berry's lack-lustre nights as well as his triumphs. There is also a detailed (and amusing) description of Little Richard's one and only disastrous tour  during the period covered. As Ian puts it, 'How could a man with so much talent make such a mess of it ?'   BLUES & RHYTHM
'With great pictures, posters, ticket stubs and, above all, lively descriptions of the shows, this chronological account of every visit to our shores by an American rock'n'roller truly brings to life an era when rock'n'roll proved it really was here to stay'.   COUNTRY MUSIC PEOPLE
'A thoroughly entertaining read.  Excellent'.   NEW GANDY DANCER
'Ian – we give you both thumbs up ! '   AMERICAN MUSIC MAGAZINE
'Ian Wallis has amassed so much info, including many little known dates and tours by many that were unknown to me…It's interesting to see that the fantastic Jackie Wilson actually appeared , would you believe, as support act for Shawaddywaddy at Batley Variety Club ! Like the first volume, this superb book will be  of interest to all rock'n'roll fans and continue to be a great source of reference…… My copy of the first volume is now well dog-eared through the many times I've used it to check up on various people and dates. I suspect this second volume is destined to end up in the same condition.'   CRICKETS FILE
'Packed with tons of info and photos. Hours and hours of wonderful reading.'   FIREBALL MAIL
'What struck me immediately was the author's candidness, describing the year 1973 as being 'very far from vintage for rock'n'roll'. His objectivity right from the get-go in reviewing the fluctuating health of rock'n'roll in general, and the successes and failures of acts, tours and events sets this book apart from the many mere fan books around.  This book will entertain and fascinate the reader and should prove, as it did for me, something that is very difficult to put down once started.  I suggest you treat yourself to this book as a matter of priority.'   UK ROCK'N'ROLL
BOTH BOOKS ARE AVAILABLE FROM THE AUTHOR AT ianlwallis@aol.com.